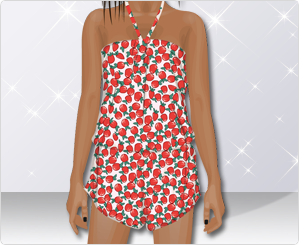 Fudge Strawberry Print Halter Romper
Did I not tell you about the romper making a comback??
I'm sure I told you about it!! A few posts back I did, and here I am, looking at Stardolls pick of the day, and seeing non other then a romper, it's making it's way back, trendy style!! Also I just wanted to say I love this one, it's print it really nice and 'refreshing', if that's how you can put it. I would buy it... if I had any stardollars... hehe.
Zest Squeeze Shopper
Hot Buys Sunglasses
I must have you!
Zest Squeeze Shopper
original version of the Stardolll
Hotbuys ones- Fendi




The beach... seagulls chirping, families embracing summer sun, calm waves making calming sounds... it's where everyone belongs. Now, to the beach!!! Wait a sec- what can I wear to the beach? Don't worry, I have yozu covered! I have two beach/pool must haves. First off... Smokin' sunnies. Sunglasses are great, they keep your eyes protected (always buy ones that have good eye protection, even if their a bit pricey, buying cheap ones with less eye protection isn't worth it) from the boiling, sunny, sun, and they are absolutely fashionable! I have an example of some great Stardoll sunnies to the right, check them out, then there is the real version of them to the left (Fendi). The next must have it the 'enviro bag'. Utterly fashionable, and completely enviromental, never feel guilty buying a bag again! Even some big lables like Marc jacobs have made a few enviro back (which are veryyy chic, btw). There is a Stardoll example of a lovely enviro bag to the right (I am loving it's colour! It's to fresh and the citrus print is just gorgeous). Enviro bags are great to fit towels and your other beach goods in.
-Holly